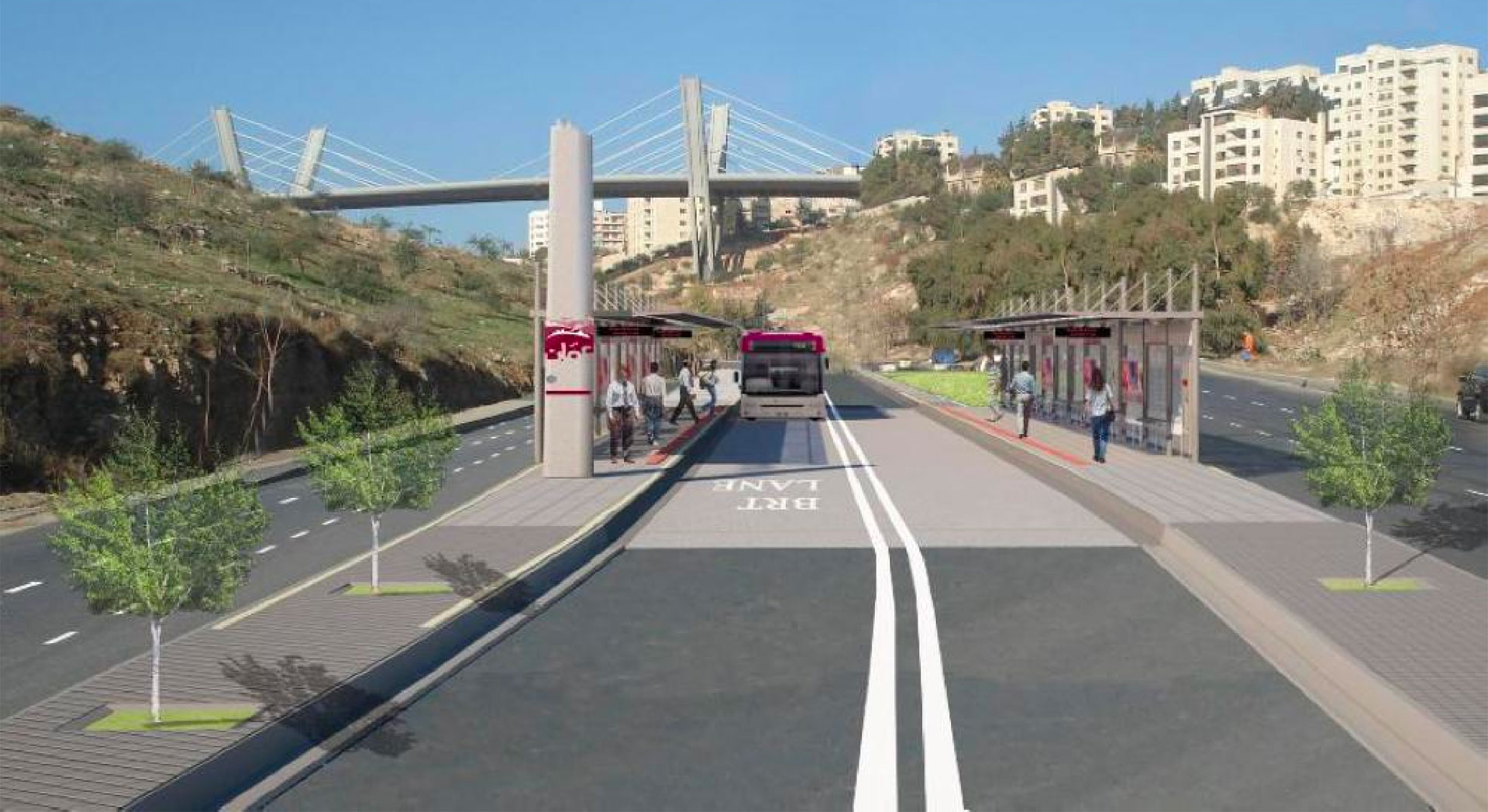 Vision
The Greater Amman Municipality (GAM) has initiated the development of an integrated and modern transportation/traffic network to meet the needs of Amman's residents and its visitors. The network had to be customized for the unique economic, social, and topographic nature of the city. The new network, with the BRT as a crucial component, will not only ensure the sustainability of the city, but also its growth and prosperity, and it can very well fulfill the vision of an organized, modern and viable city.
The Bus Rapid Transit (BRT) Project
an introduction
At the heart of our vision of a rapid transportation network for the city of Amman, a flexible and fully-integrated public transportation system that provides rapid, safe, and highly reliable service shall soon exist. The concept revolves around large-capacity buses that operate on dedicated tracks to provide a high level of serviceability. The buses shall travel at intervals of no longer than 3 minutes to and from modern fully-integrated terminals.
Amman's BRT will be the centerpiece of a fully-integrated and hierarchical public transport network. For instance, a citizen requiring traveling from her/his place of residence to the workplace may require more than one intermediary (means) of transportation. In addition to designing a fast bus system, the need for a wider network of other specific intermediaries such as regular buses or smaller vehicles is needed to complete the network. This auxiliary network aims to get passengers to the nearest fast bus station in the fastest time possible, which will reduce the waiting time and provide a seamlessly smooth and convenient service.
International Studies
Did you know
· نظام الباص السريع سوف يوفر 85 مليو ن كيلومتر من المسافات المقطوعة بالمركبات الخاصة و 12 مليون كيلومتر من المسافات المقطوعة بالتكسي مما سوف يخفف من الازدحامات المرورية

· كل حافلة من نظام الباص السريع تستطيع استيعاب حوالي 150 راكب او ما يعادل 110 مركبات خاصة باعتبار 1.4 شخص للمركبة وهو المعدل الحالي في عمان

· ان فترة الانتظار بين الحافلة والاخرى في نظام الباص السريع لن تتجاوز 90 ثانية خلال اوقات الذروة

· 4000 شجرة اصيلة (تتطلب سقاية وعناية اقل من الاشجار المستوردة) سيتم زراعتها على الجزر الوسطية التي تفصل مسارب الباص السريع من مسارب المركبات على المحور الاول (صويلح – المحطة)

· أن آلية الوصول لمحطات نظام الباص السريع ستكون من خلال جسور أو أنفاق أو ممرات مشاة محكومة بإشارات ضوئية
where do you want to go?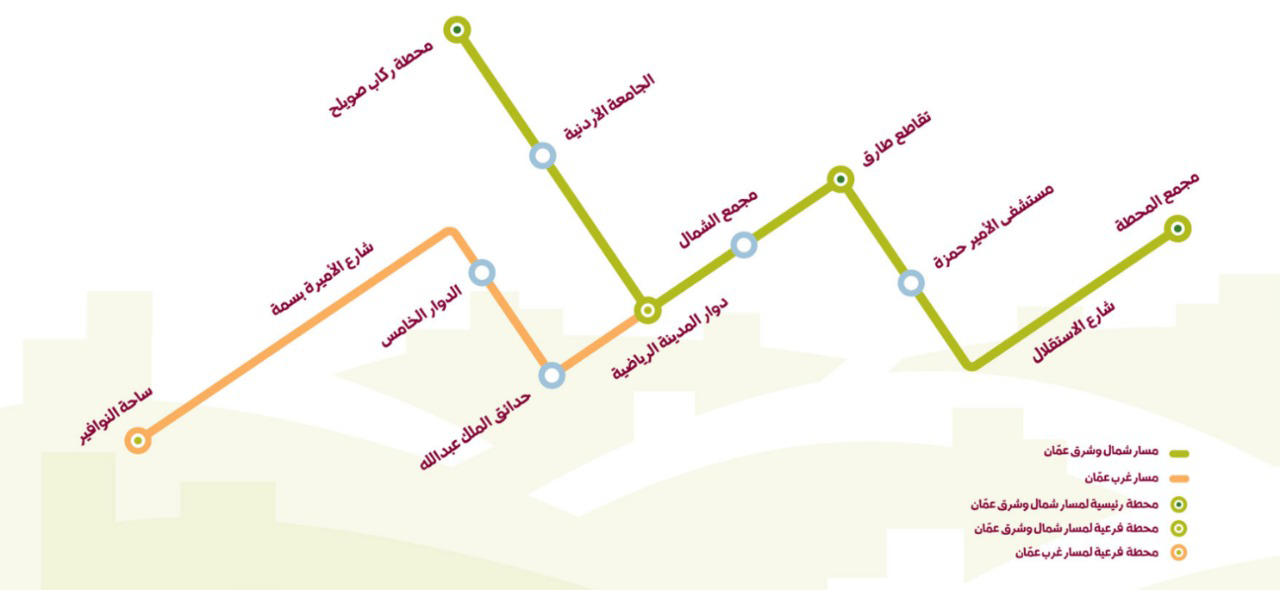 تتكون شبكة الباص السريع داخل مدينة عمان من خطين رئيسيين يبلغ طولهما 32 كم
أطلقت أمانة عمان الكبرى التشغيل التجريبي للخط رقم 2 بطول 17 كم،انطلاقا من صويلح وصولا الى متحف الاردن، منتصف عام 2021.
أطلقت أمانة عمان الكبرى التشغيل التجريبي للخط رقم 1 بطول 15 كم،انطلاقا من مجمع المحطة وصولا الى محطة صويلح، الربع الاول عام 2022.
يوجد حاليا 96 حافلة عاملة على الخط بتردد 5 دقائق، مع امكانية زيادة التردد خلال ساعات الذروة.
يوجد العديد من المحطات الفرعية على طول الخط، تخدم مراكز الجذب في المدينة.
جميع الحافلات ذات مواصفات عالية ومهيأة لاستخدام ذوي الاحتياجات الخاصة.
ساعات التشغيل الحالية( التشغيل التجريبي):
السبت - الخميس 6 صباحا حتى 10 مساء
الجمعة 8 صباحا حتى 9 مساء